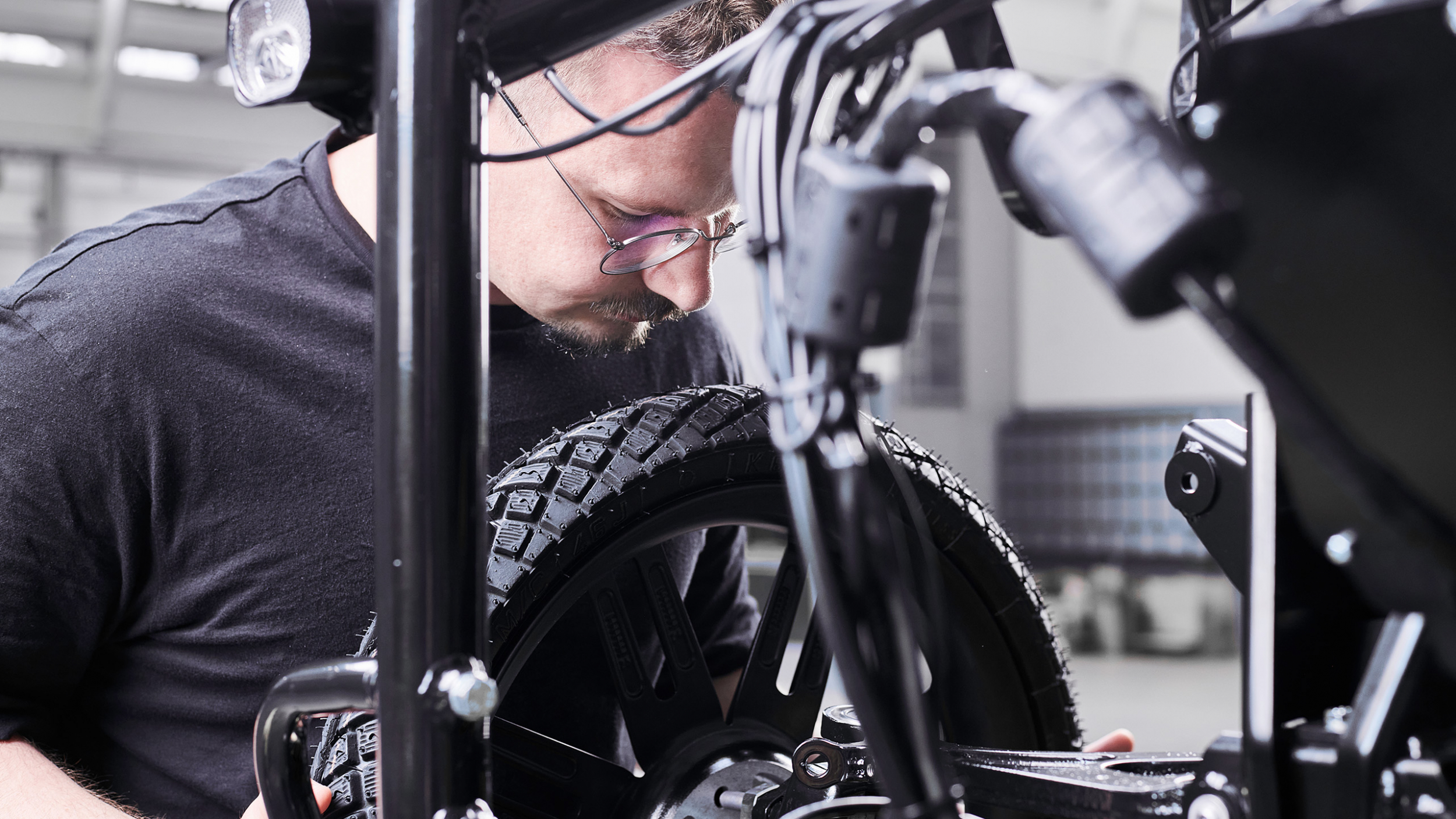 Aftersales support
Customer service
You need help with the initial set-up or the maintenance of your eCargobike? Looking for spare parts or a manual? Then you've come to the right place. This section contains useful information available to download, as well as many answers to important questions concerning our Cargo range.
Downloads
Instructions and product information
Our operating instructions and the manual are also available in digital format. They'll help you quickly find detailed information about your electric cargo bike.
The Cargo combines cycle-type benefits (it's environmentally friendly, extremely compact, cheap to maintain) with the advantages of a car (weather protection, driver safety, baggage transport capacity). As a pedelec, it perfectly combines the strengths of each: four wheels, roof, electrically assisted, emission-free, no driver's licence needed. For flexible, individual mobility and the environmentally-friendly transport of goods in urban environments.
The Cargo has a lightweight, robust base made of durable aerospace aluminium, with double wishbones on the front and rear axles, and equipped with shock absorber struts. You decide which body best suits you and your business. You can choose between these models: Base, Pack, Pick-up and Work.
The Cargo has a whole range of potential applications. At first, it will be available to commercial customers only. We think it will be highly beneficial in scenarios such as express courier services, providing mobility and transport on modern campus zones, not to mention industry complexes. Other target customers include city and municipal authorities, the food & drink sector, retail and skilled trade enterprises.
Germany currently has a wide range of incentives for purchasing commercial cargo bikes. A number of city and local authorities, as well as federal states independently provide funding for buying (electric) cargo bikes for passenger or cargo transport. Depending on the programme, our Cargo will meet the requirements, making it eligible for funding. Information on funding opportunities – sorted by federal state and continuously updated – is available at cargobike.now for example (we accept no liability for the information provided).
The German Federal Ministry for the Environment has also launched a new nationwide 25 percent purchase bonus for all commercially used e-bikes in Germany as of March 1, 2021. We are already listed there. Read our blog for more information about securing your own funding.
During the initial phase, the Cargo can be ordered exclusively online using the configurator, or you contact us for individual fleet quotations by using our contact form. We are also working on other sales programmes including plans for physical retail outlets at selected locations in Germany and other European countries. More information to follow. If you would like to become a dealer or service partner, please contact us directly using our contact form.
Cargo
Operation and technology
Under German law, the Cargo's permitted road speed is the same as a pedelec, i.e. up to 25 km/h electrically assisted (plus a statutory tolerance).
Driving a Cargo is child's play. Just jump on and go - just like an e-bike. It is equipped with an automatic gear shift with a manual shift facility.
Yes, it has an electric-powered reverse gear (thumb throttle), making parking and manoeuvring totally simple.
The double wishbone axles with spring shock absorbers and stabilisers mean enhanced levels of comfort for the driver. And by softening the shocks, the suspension also protects the Cargo's components.
You can park the Cargo like any other cargo bike or cycle. The plan is that larger-sized cities will, in future, establish dedicated cargo bike parking spaces. Theoretically, one car-parking space can accommodate three Cargos. A parking brake stops the Cargo from rolling off accidentally. An optional electronic immobilizer and electronic box lock will become available shortly.
Four wheels give the Cargo its high driving stability. Specially developed in our Mubea Automotive division, the rims combined with high-grade braking system and smart lighting system with integrated indicators, also mean enhanced visibility on the road.
It has a range of 30 to 50 kilometres, depending on route conditions, assistance, body, type of use, payload and topology. Adding a second battery increases the range up to 60 - 100 kilometres.
When charging your battery using a standard power outlet, a full charging cycle requires approx. six hours. The battery has a capacity of 1,240 Wh.
Using a standard power outlet. The interchangeable battery system makes the process very simple. The batteries are removable.
The battery's charge status is constantly displayed on the dashboard and the battery itself, so you need not worry about unexpectedly experiencing an empty battery. For added range, we can supply an optional second battery. In an emergency, the Cargo can also be powered without electric assistance.
The roof design together with the windshield in combination with the wheel splash guards and front fairing, already ensure the driver remains practically 100% dry. There are no current plans to add a side door.
Cargo
Delivery and service
We will commence distribution in Germany in 2022. It is planned to become available in countries such as the Netherlands, Belgium, Austria, Switzerland and the UK in 2023.
Every 2,500 kilometres or every 12 months. Maintenance and selected wearing parts, including tyres, are included in the all-in lease rates. If you decide to purchase your Cargo right away, you can add the service and insurance, including breakdown recovery service. A detailed listing of the costs can be found in our configurator.
Maintenance services are provided by our service partner network. For fleet customers, we offer an individual full-service plan including maintenance programme. Our mobile "Flying Doctor" service will ensure the smooth initial start-up of your Cargo. For further information, please contact Customer Service using the general contact form.
Spare parts are available from our Aftermarket Service. Please contact Customer Service using the contact form.
If you select an insurance policy with breakdown recovery service (through Hepster), this includes a 24-hour emergency service hotline with roadside assistance and breakdown recovery (in Germany only).
Yes, in Germany you can take out comprehensive insurance including theft cover and breakdown recovery for your Cargo (excluding the Box and/or Work rear bodies) with our insurance partner hepster (optional for buy-it-now option). Comprehensive insurance for the entire vehicle is automatically included (excl. breakdown recovery) with our all-in-leasing offers and rental option (3-month test).
Cargo
Financing options and purchase
Make a really simple payment for your new Cargo with the buy-it-now option. After we've received your purchase order, we'll send you an order confirmation with your specific delivery date. Please note that the delivery time is currently around 16 - 20 weeks. All prices are exclusive of VAT. Delivery costs not included, unless otherwise stated.
The Cargo Pack, Pick-up and Work models can be leased over 36 months. You pay a monthly lease payment to Grenke-Leasing. The instalment and interest amount depends on the model, equipment, the selected additional options, and mileage. Use our configurator to request a leasing quote subject to a credit check. If the credit check is successful, we will issue you with a leasing quote and delivery date. Commercial leasing is currently only available for Germany. Other countries will follow in 2023.
You want to test the Cargo with no obligation? Then our all-inclusive carefree package is the perfect option for you. Click here to select one of our two most popular models and test it out for 3 months. We'll take care of the insurance, service and logistics, and you are subject to no obligations. After 3 months we'll collect the Cargo. Or you would like to keep it? No problem. The payment you've made will be deducted from the purchase price (for buy-it-now only).
Technical support
Send us your query
We're still there for you after your purchase. Read our FAQs for answers to a broad range of questions about your electric Cargo bike. If you have a technical issue, simply use our service form and we'll respond as soon as possible.